Want to add a colorful, unique plant to your houseplant collection? Let's talk about the Callisia Repense Pink Lady care and everything you need to know!
This winter I went to Lowes to grab a houseplant for our new office shelving. I was looking for something in particular, which I found (hello pilea dark mystery) but I also walked away with a Pink Lady plant.
I was really drawn to the tiny pinkish purple foliage and couldn't resist.
Do I usually have trouble keeping these sorts of "string" plants happy? Yes I do.
But, I am happy to report that six months later it is living it's best life on my screened in porch.
Let's talk about the Callisia Repens plant and if it might be a good fit for your home!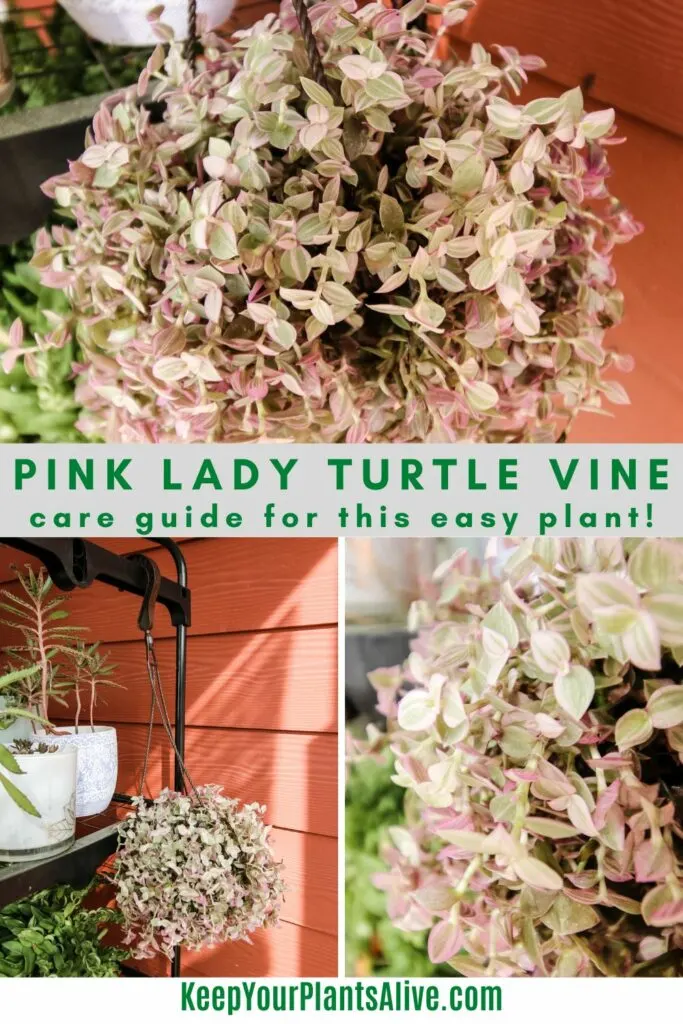 Callisia repens Pink Lady care guide
Callisia repens Pink Lady is a cultivar of the Callisia repens plant, also known as the creeping inch plant or turtle vine.
It is a trailing plant with small, round leaves that are variegated with shades of pink, purple, and green.
This cultivar is popular among indoor plant enthusiasts for its attractive appearance and low maintenance.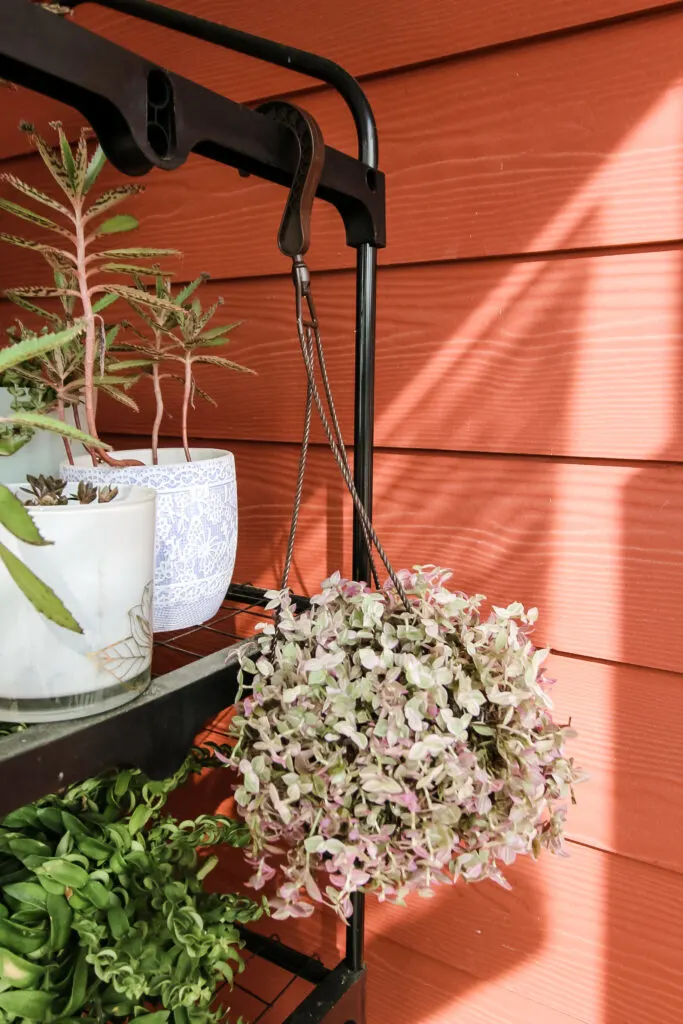 Other Names for Callisia Repens:
Callisia repens, also known as:
creeping inch plant
pink lady turtle vine
Bolivian jew plant
The Turtle Vine plant is a species of flowering plant in the family Commelinaceae. These common names allude to the plant's appearance and its native region.
Origin of the Turtle Vine Plant
The Pink Lady is native to Central and South America, including Mexico, Guatemala, and Bolivia. It thrives in tropical and subtropical regions, growing wild in damp, shady areas such as forests and riverbanks.
Is Callisia Repens Rare?
No, Callisia repens is not considered a rare plant and is widely available in flower nurseries and online.
I found it at Lowes during the winter, so that makes it pretty common! That being said it isn't one of the MOST common plants you see at places like Lowes.
However, that doesn't make it any less cool. The easy care and attractive appeal make it a popular choice among green thumbs and collectors.
Is Callisia Repens Toxic?
Callisia Pink lady plant is not known to be toxic to humans or pets, but it is always a good idea to keep plants out of reach of children and pets to avoid accidental ingestion.
As with any plant, it is important to handle it with care and wash your hands after handling it to avoid potential irritation or allergic reactions.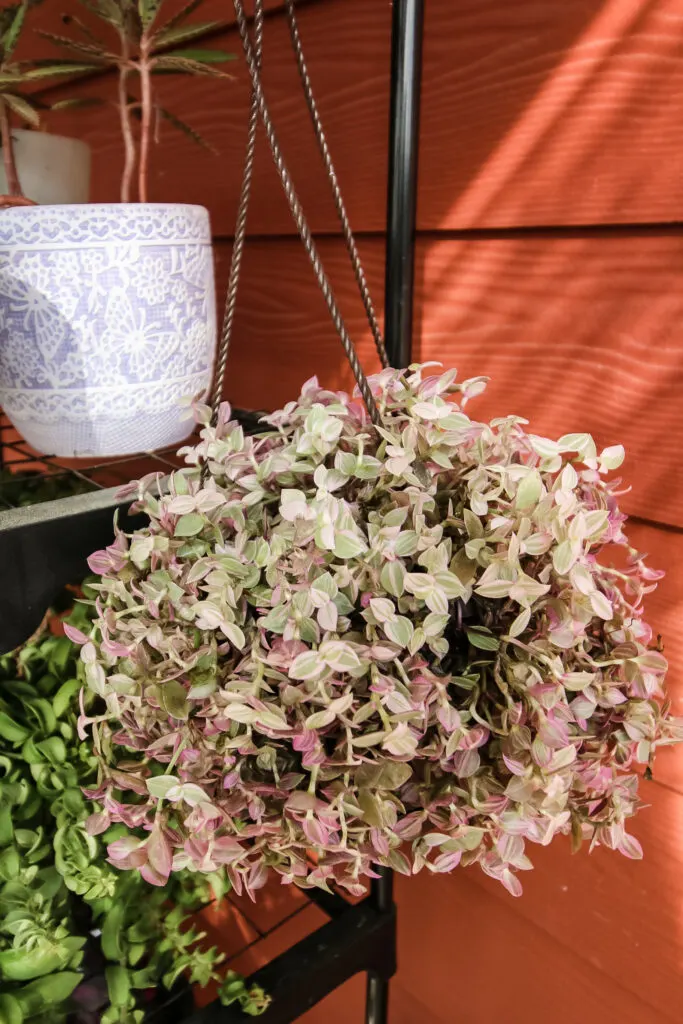 Watering Callisia Repens
Callisia repens prefers to be kept consistently moist but not waterlogged. When the upper inch of the soil feels dry to the touch, water it.
Avoid overwatering, as it can lead to root rot, and make sure the pot has adequate drainage to allow excess water to escape.
Here's my guide to drilling drainage holes in pots!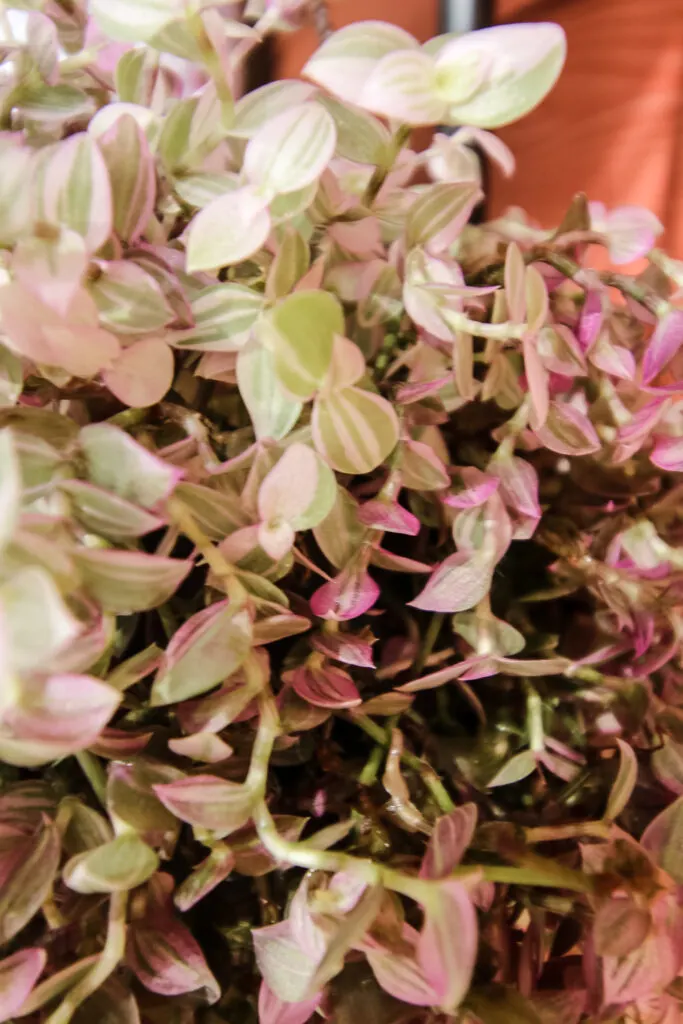 Callisia Repens Light Needs
The Pink Lady plant prefers bright, indirect light but can tolerate some direct sun.
Avoid placing it in full shade, as this can cause it to become leggy and weak.
This plant will definitely reach towards the light, so consider rotating it weekly, especially if it's in a corner or only getting light from one side.
In areas with low light levels, supplement with artificial lighting to ensure proper growth.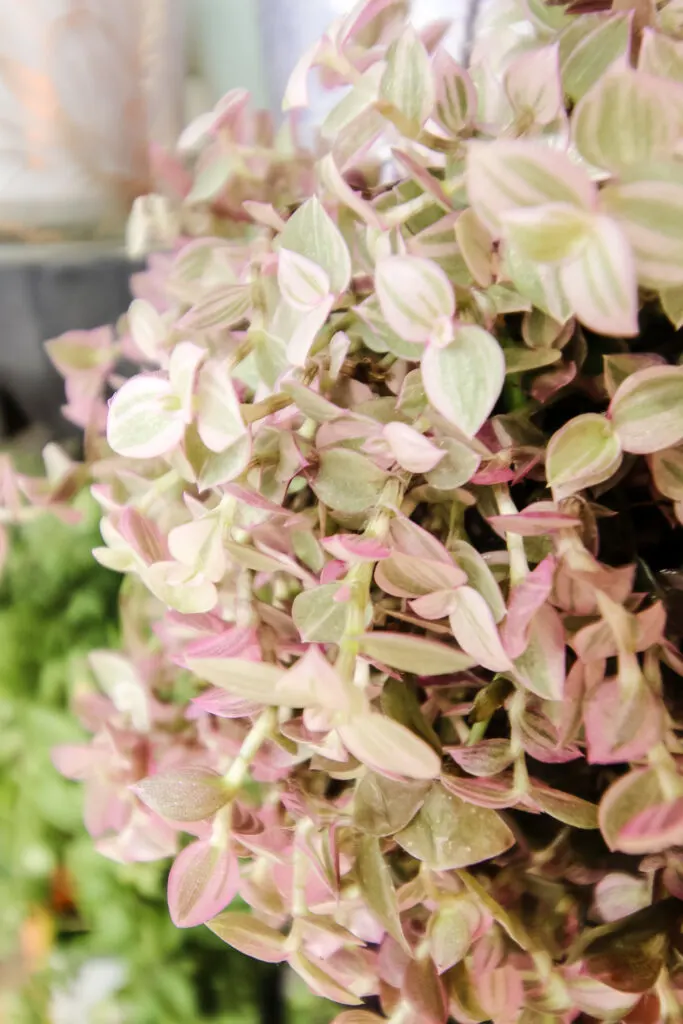 Pink Lady plant Soil & Potting
Callisia repens prefers well-draining soil and can be grown in a variety of potting mixes, including a mixture of peat moss, perlite, and vermiculite.
It can also be grown in a soilless mix or hydroponically.
When repotting, choose a pot that is only slightly larger than the current one to avoid overwatering and root rot.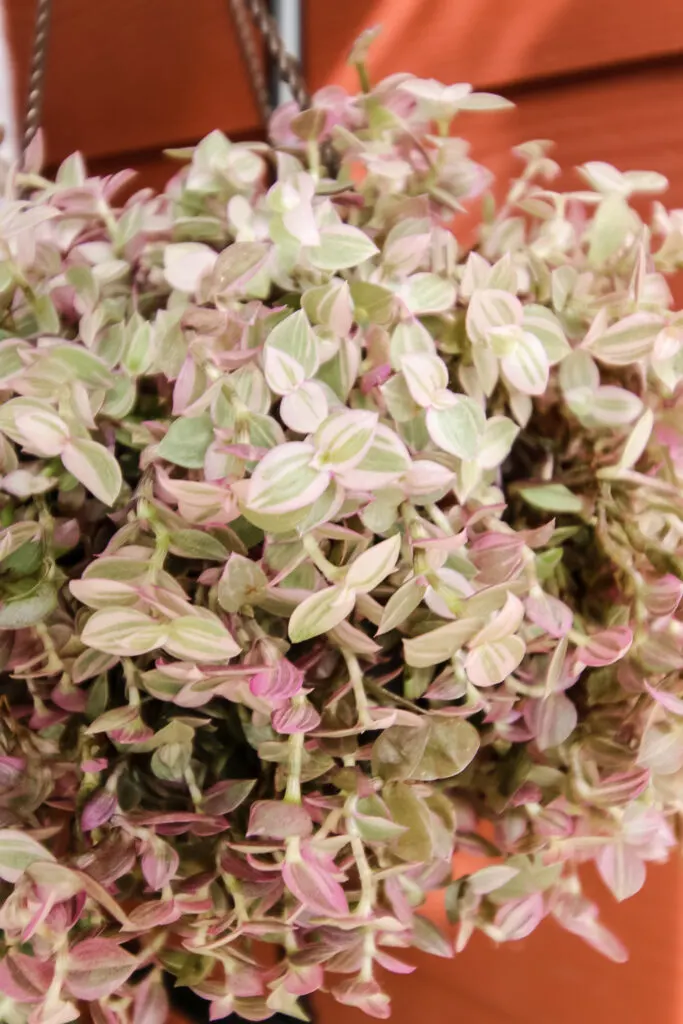 Can I Keep Callisia Repens Outdoors?
Callisia repens can be grown outdoors in USDA hardiness zones 9-11, but it prefers warm temperatures and should be brought indoors during colder weather.
Protecting it from direct sunlight and the wind is also important, as this can damage the leaves and dry out the soil.
If you live in a region with colder temperatures or frost, it is best to keep it indoors or in a greenhouse during the winter months.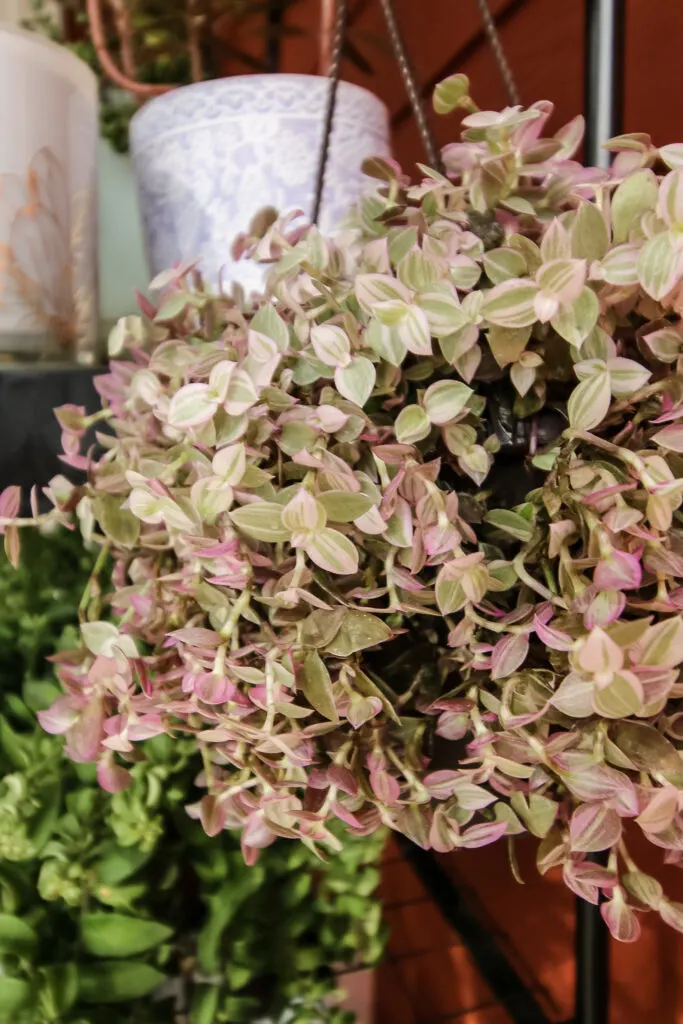 Fertilizating Callisia Repens
Callisia Pink Lady is a relatively low-maintenance plant that does not require heavy fertilization.
During the growing season, which typically runs from spring to fall, you can fertilize the Pink Lady Turtle Vine once a month with a balanced, water-soluble fertilizer. A balanced fertilizer contains equal amounts of nitrogen, phosphorus, and potassium (NPK).
When fertilizing, dilute the fertilizer to half or one-quarter of the recommended strength on the package. Over-fertilization can lead to nutrient burn, damaging the plant's leaves and roots.
It is important to note that this plant does not require fertilizer during winter when its growth slows down. During this time, you can reduce or completely stop fertilization until the growing season begins again in the spring.
Does Callisia Repens Like to be Rootbound?
Callisia repens can tolerate being rootbound to a certain extent, but it will eventually outgrow its pot and require repotting. S
igns that the plant is becoming rootbound include stunted growth, yellowing leaves, and waterlogging.
Does Callisia Repens Need a Moss Pole?
The pink lady turtle vine does not grow well on a moss pole to support its growth. However, it can benefit from a trellis or other support structure to encourage it to grow upright and prevent it from becoming too leggy.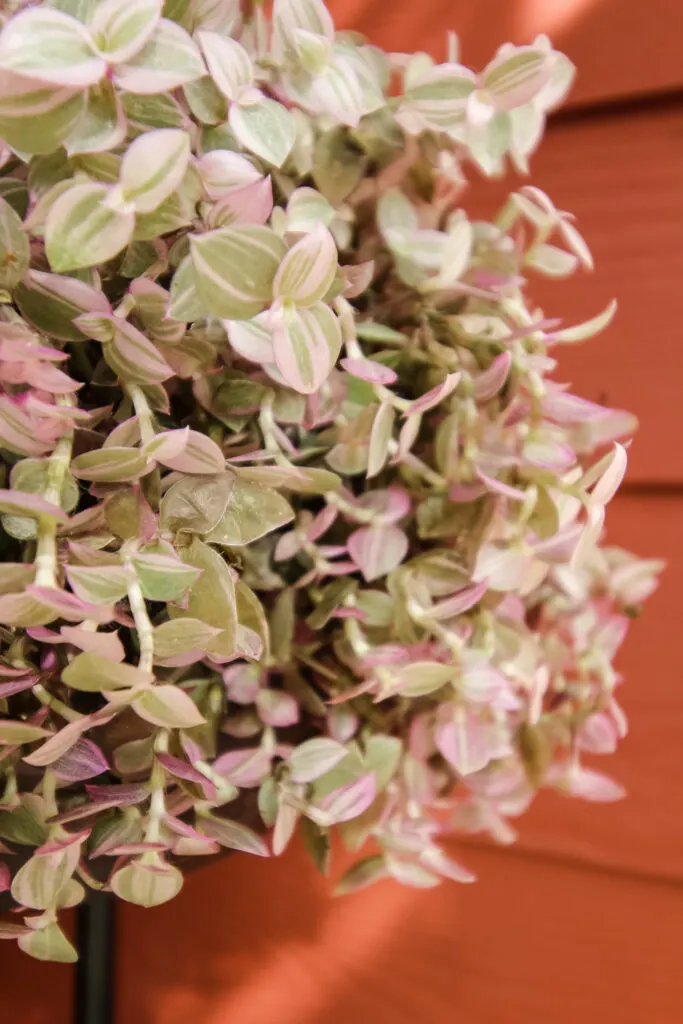 How to Propagate Callisia Repens
Callisia repens can be propagated through stem cuttings, division, or by planting the small plantlets that grow along the stem.
The easiest way is through division – here's how to do it.
Gently remove the plant from its pot and separate the roots into smaller sections, making sure each section has a few stems and healthy roots.
Each portion should be moved in a separate container with new potting soil and plenty of water.
Place the newly potted plants in bright, indirect light and keep the soil moist until they start to grow new leaves.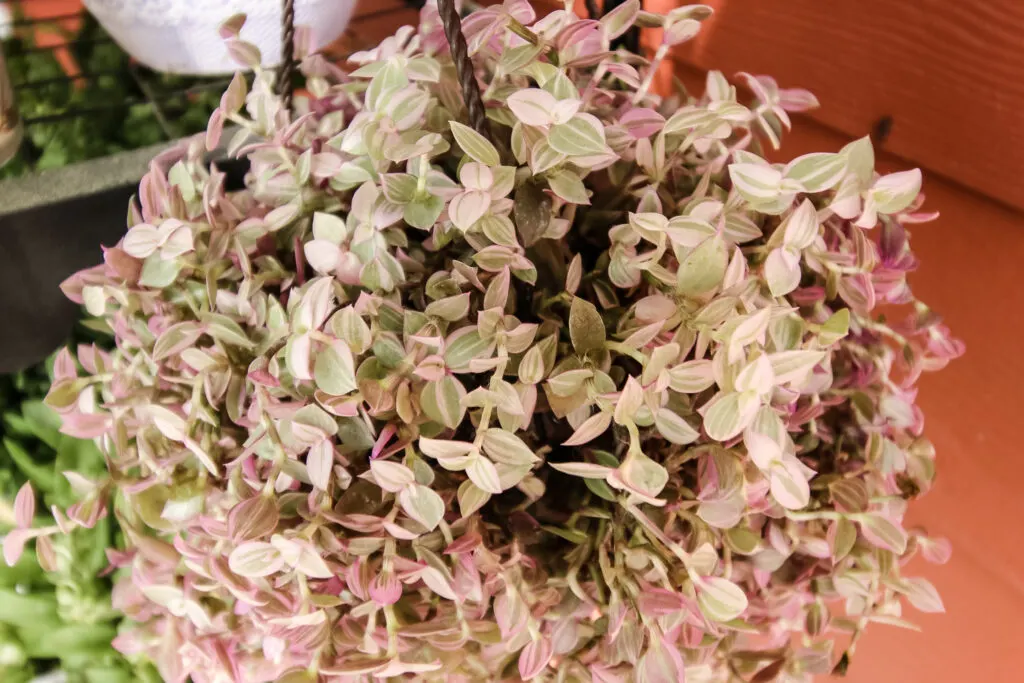 Troubleshooting Callisia repens
Callisia repens is generally a hardy and low-maintenance plant, but it occasionally faces some issues. Here are some common problems and solutions:
Yellowing leaves
Yellow leaves can be caused by overwatering, underwatering, or lack of nutrients. Check the soil's moisture level and modify your watering plan as necessary.
Make sure the plant is not sitting in water, as this can lead to root rot.
If the plant hasn't been fertilized in a while, you may want to consider giving it a balanced fertilizer to provide the necessary nutrients.
Wilting
Wilting can be a sign of underwatering or root rot. Check the soil moisture and adjust your watering schedule as needed.
If the soil is too wet and there are signs of root rot, you may need to repot the plant in fresh soil and trim any affected roots.
Pests
The Pink lady plant can be susceptible to pests such as spider mites, mealybugs, and scale insects. Check it regularly for any signs of pests, such as tiny webs, sticky residue, or small bumps on the leaves.
If you detect any of these, you can remove them by wiping the leaves with a damp cloth or using insecticidal soap.
Leggy growth
Leggy growth can occur if the plant lacks light. Move it to a brighter location or supplement it with artificial light to promote more compact growth.
Browning tips
Browning tips can be caused by low humidity, underwatering, or excess fertilizer.
Check the humidity levels and increase them if necessary, adjust your watering schedule, and ensure you are not over-fertilizing.
In conclusion, Callisia repens, also known as the Pink lady turtle vine, is a beautiful, low-maintenance plant that can be a great addition to any indoor or outdoor space.
By following the proper care and checking our free guide, you can help your Callisia pink lady thrive and enjoy its beauty for years to come!
Free printable Turtle Vine care guide
Join the (free!) KeepYourPlantsAlive+ community to access this exclusive printable plant care guide! Once you sign up, you can right click & save the JPG care guide. Or keep scrolling for more!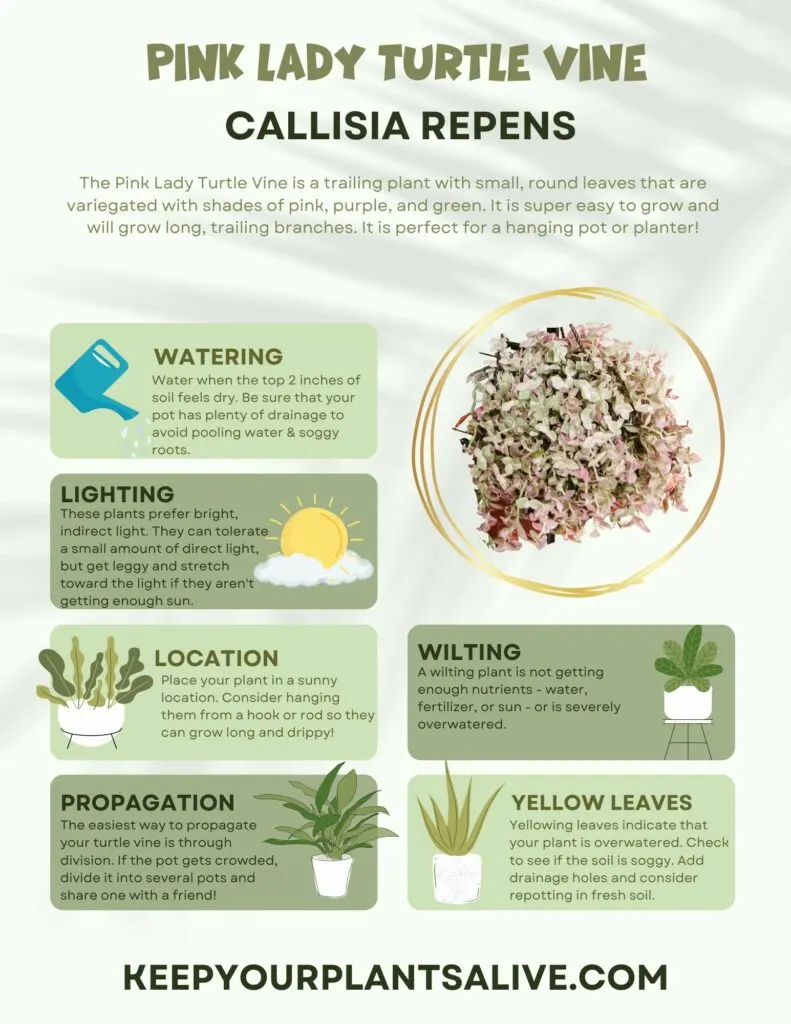 Thanks for reading!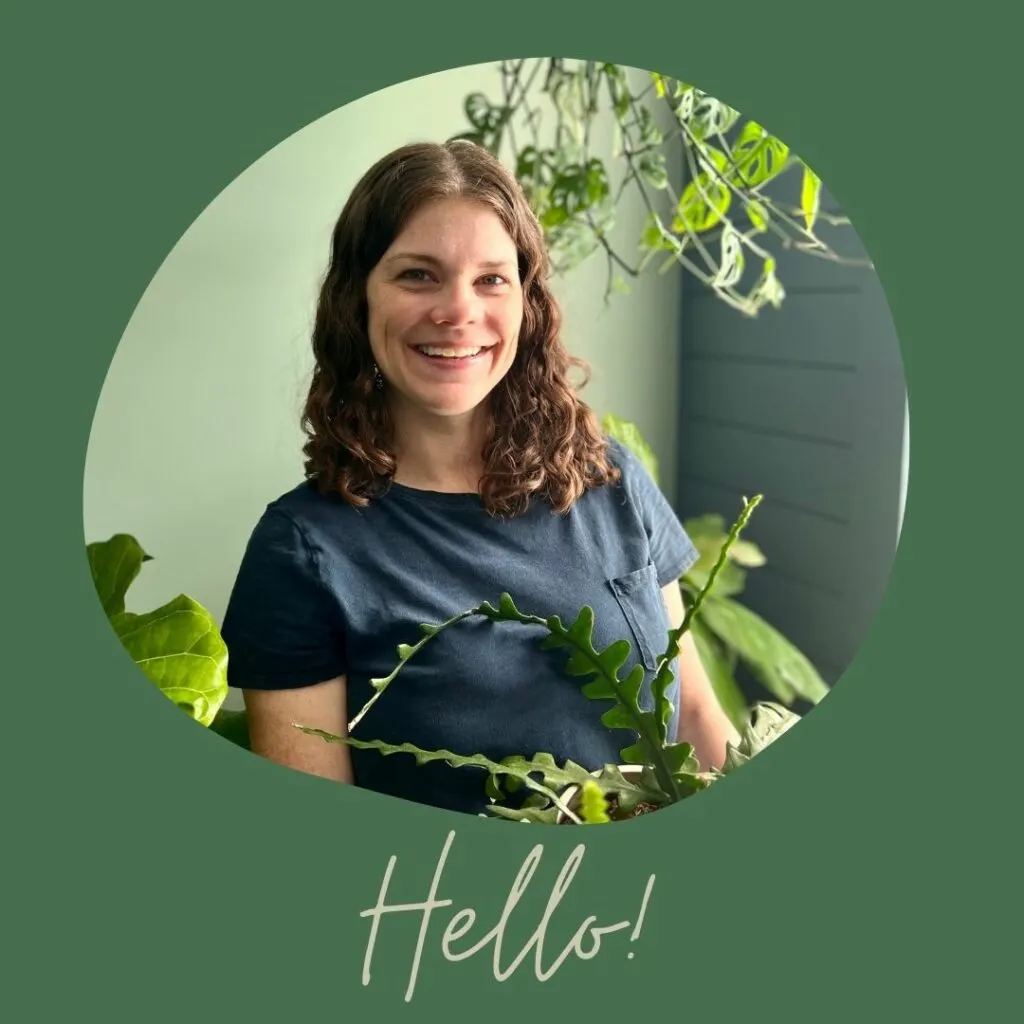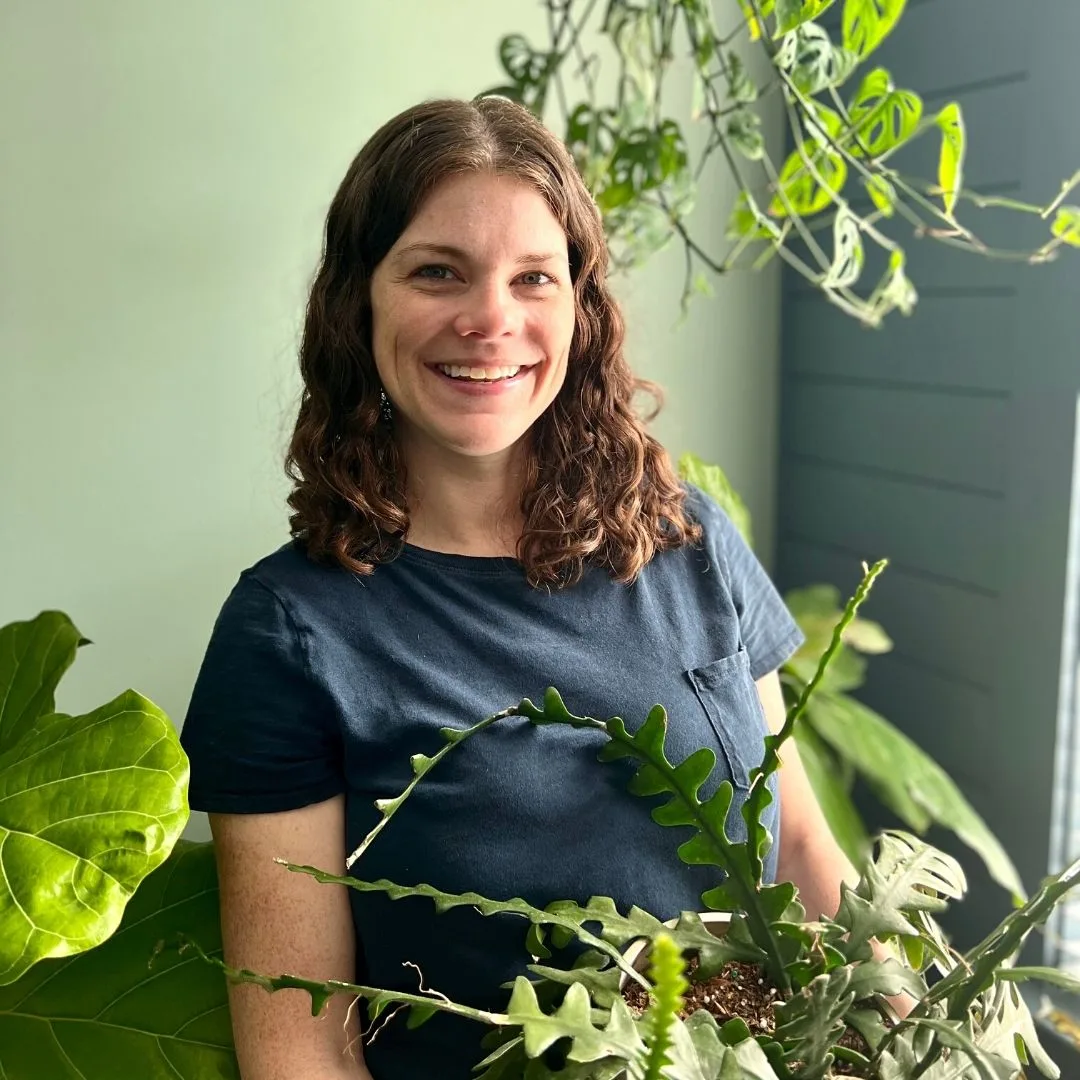 Hey there, I'm Morgan, a houseplant enthusiast from sunny Charleston, South Carolina. Growing up surrounded by my mom's lush orchids and African violets, I discovered the magic of bringing nature indoors. Thanks to the pandemic, I delved deeper into houseplants, discovering their power to uplift moods and transform spaces. I'm here to spill all my secrets, helping you pick the perfect houseplant – and make it happy. Let's keep your plants alive, together! 😊